While others only dream of other countries and set money aside for the trip, the Company's Consultants bring their dreams into reality. Enjoy a luxury vacation and get precious knowledge from the world coaches!
Ask Consultants why they like to travel with us, and they will answer: "It's simple, interesting and exciting."
115 Consultants from Azerbaijan, Vietnam, Germany, Kazakhstan, Kyrgyzstan, Mongolia, Russia, Serbia, Turkey and Uzbekistan went on an exciting tour to the hottest and the most amazing countries: Greece, Italy and the United Arab Emirates!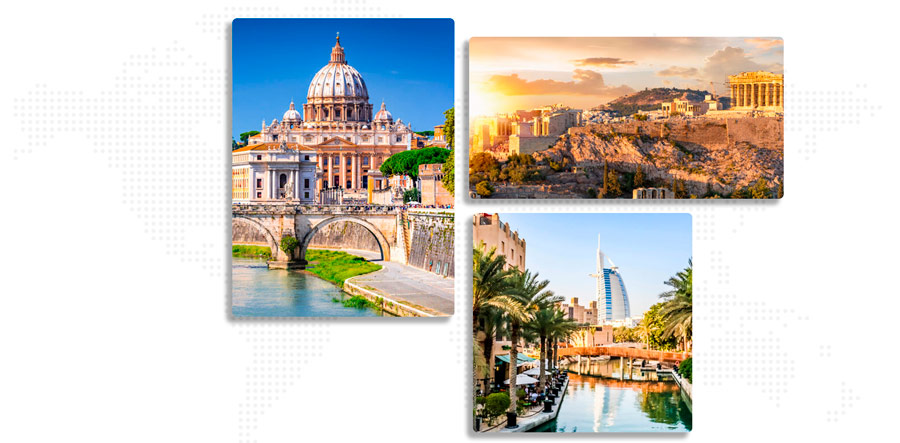 Traveling with Siberian Wellness is more than just a trip: it's a special time, when every minute is filled with vivid emotions, discoveries and valuable insights in a team of the best ones. Those who work their way to the top of business, increasing their income and pushing forward every single day!
How was it?
Italy
Pelevina Tatyana Nikolaevna, Russia:

"I'd always wanted to see Rome live. Feel its beauty, learn more about its history, feast my eyes on its superb architecture. A trip to Italy was my first one, and I will remember it for life. Everything was perfectly organized; in a week we managed to do so many interesting and useful things! I got plenty of incredible emotions and I'm still excited. Now I'm doing my best to study English, so that I could freely travel around the world. All of this has been made possible thanks to Siberian Wellness!"
Ansarova Guylandam Habib-Kyzy, Azerbaijan:

"I love traveling and I've dreamed of seeing Rome since my childhood to immerse into its everyday life, get acquainted with Italian culture, cuisine, and find myself where gladiators and great commanders celebrated triumph a few centuries ago. I've visited Hong Kong, Hainan and Tanzania with the Company before, but each new trip with Siberian Wellness surprises and delights me like the first time. To find yourself among the strongest Consultants and communicate with Company Management is an indescribable feeling. It's what helps me move forward and make my dreams come true."
Greece
Alieva Farida Adil Kyzy, Azerbaijan:

"I chose Greece, because I had never been to Europe before. This journey meant a lot for me, because getting a Schengen visa is quite difficult, but thanks to the business with Siberian Wellness, I easily prepared all the necessary documents and was able to travel to all countries of the Schengen zone in the shortest possible time. Greece is a beautiful country with a rich history and culture. Trip is one of the most powerful tools for motivation, personal development and building a strong, close-knit team. I promised myself that I would participate in The Reward Trip Program every year and from now on – together with my Consultants. We'll circle the globe with Siberian Wellness!"
Batyrkhanova Rushaniya Zufarovna, Russia:

"Greece is my childhood dream. It was my first trip abroad, and Siberian Wellness showed me what a real journey should be: chockfull, vibrant and productive. We had an abundant timetable: we got acquainted with historical monuments, touched its history, enjoyed the sea and, of course, completed business training. It is an essential part of building a truly international business, and now I know my next step. I will definitely participate in the next Reward Trip Program and see the whole world!"
The United Arab Emirates
Borzhigon Erdenachimeg Adyaa, Mongolia:

"I have never traveled with the Company before and I am happy beyond belief that the United Arab Emirates was my first country. Dubai is awesome. I will always remember it colorful shows, sand dunes and fountains throughout the city. This trip helped me understand what I want and what I need to do to achieve it. Beyond powerful motivation, I also got a unique and precious knowledge. Learning from the Company Management is the key to fulfilling your dreams."
Hülya Doğangün, Turkey:

"The United Arab Emirates is one of the most fascinating countries in the world. I've traveled with Siberian Wellness for the first time, that's why I was looking forward to the day of departure. Our Trip was filled with gripping experience. Thanks to the interesting program, we've done a lot: we learned more about the history and culture of this amazing country, got exclusive training from Siberian Wellness' Management and, of course, had a lot of fun. My favorites – the safari and La Perle show, it was a lifetime experience. I felt that I'd joined the right company. With Siberian Wellness I learned to dream and make dreams the reality."
AYŞE GÜL KARATAŞ DEMİRDELEN, Turkey:

"Traveling to the United Arab Emirates is a benchmark for what a real vacation should be. It means the full range of experiences: relax, have fun, try something new, do something that you have never done before. Every minute should be as productive as possible. The best thing for me was the La Perle show – it transported me to childhood when I believed in magic and that anything is possible. Now I know that this is true. Everything is possible with Siberian Wellness."
Participate in The Reward Trip Program – boost your business and income, live your life to the fullest!